Achilles Deluxe Slots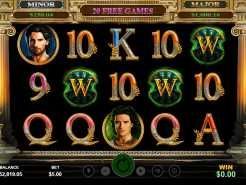 Current Jackpot
$1,653.48
Play Now
Achilles was one of the earlier releases by a software developer whose name we'll shortly reveal. Maybe you already know it. The game was impressive and included several features that made it popular. Even today, plenty of people still play it. So, it was time for a sequel – and that's exactly what we've got here. With better and bolder graphics and features that remind us of the original, this is a nice mix of old and new. Shall we check it out?
Developer info if you hadn't guessed
If you haven't played the original Achilles slot, you may not know it was released by Realtime Gaming. RTG is behind the sequel too, of course.
The demo is good to try
It means you can keep your cash in your pocket while you work out if you like it enough to play for real.
Achilles provides the theme
And the city of Troy and Helen, of course. Everything you would expect to see in this theme is here, including the Trojan horse.
An impressive design is presented to us
If you recall the original game, you'll know it was basic in terms of the design. Many of the earlier slot games from RTG were based on a similar format and presentation. Here, though, RTG treats us to a modern take on the Achilles story. You'll enjoy the Greek imagery that goes through the game, along with detailed images of the main players in the story.
Learning the basics for the Achilles Deluxe online slot game
There are five reels in play with three icons per reel. This does qualify as a progressive slot, but there are two in play rather than just one. Either one could randomly drop after a paid spin of the reels. The wild symbol is shown as a W within a circle. You'll also see the game logo in action, and this is used as a scatter symbol.
How many paylines does the game have?
There are 20 to bet on if you decide to play.
Plenty of betting options available too
With one cent as the lowest coin you can use, it's possible to play from a mere 20 cents per spin. The top bet with the biggest coin is $100 to cover all the lines.
Look for the burger if you want the paytable
The controls are underneath the reels in Achilles Deluxe. Once you see them, you'll notice the info button is there too. Select it and you can go through to read more about the game.
No bonus elements are involved here
Sadly, this is true, although there is plenty more to learn about the game yet.
Two ways to net some free spins
The traditional method is in action here, offering you 10 free spins in exchange for three scattered logos anywhere in view in a single base game spin. You can trigger another set from within the first lot, and every prize is worth 2x its normal amount. Better yet, if just two scatters show up, but you get a wild on that spin too, you retrigger the spins that way as well. As you might guess, the wild is the key to finding those other spins. Find three wild symbols in the same game and see what happens next. Three icons appear and you must select one. Hiding behind the icons are some spins – 15, 20, or 25 of them. These games are different because they earn a higher win multiplier of 3x. You can also use the substitute to replace scatter symbols in these freebies.
Do we know what the RTP is?
It is likely to sit at around 95% or slightly over.
Our rating for Achilles Deluxe
This new slot from RTG is a superb one to play. We can confidently give it 8/10 – it's one we would return to for sure.
When do we hear about the next progressive jackpot winner?
Not all casinos announce news like this, but most do. So, if someone manages to net one of the progressive amounts available in Achilles Deluxe, get ready to hear about it online whenever it happens.
Play for a good time!
If you just want to check out the game to see what you think of it, the demo gives you the ideal opportunity to make that happen. Is this going to be your favorite game from RTG? Does it beat the original? You can find out the answers when you experiment with a few demo spins.
Play for real if you are a member of a casino that has the game
Check the casino you are already a member of if you've joined. If not, look out for casinos using RTG software as they should all have access to the game.
Achilles Deluxe on mobile platforms
This is a new release, so it's no surprise to find the game is available on Android, iOS, and other mobile tablets and smartphones too. Are you ready to meet the cast of characters and play Achilles Deluxe today?