Aztec's Treasure Feature Guarantee Slots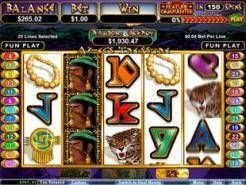 Current Jackpot
$2,165.67
Play Now
Aztec's Treasure is perhaps one of the most famous slots from the RTG collection of games. But did you know it appears in two forms? There is the original Aztec's Treasure game, but there is also the Aztec's Treasure Feature Guarantee game. That's the one we will focus on here. Think of it as a new and improved, supercharged version of the original.
Reels and paylines
You get nothing new to look at here, as there are 25 lines across five reels.
Coin values in play
Coins are provided in plentiful order here, with values going from a cent to $5 each.
Aztec's Treasure Feature Guarantee special symbols
The game includes a character called the Aztec King. He's wild. But there is a scatter too, appearing as an idol.
Are there bonus elements to try and find?
The bonus here is some free games. The number you get varies according to how many symbols are in the triggering combination. Three, four, or five idols are required to unlock either five, 15, or 25 free spins. Whichever quantity you get, you're assured of a 3x multiplier on your prizes. But you can boost your free games total by finding more idols during play. From one to five are needed, with anything from one to 25 extra freebies added whenever that occurs.
There is also the Feature Guarantee element, of course. This means you will automatically trigger this free games feature if you have played 150 spins and not already done so. You might trigger it sooner of course, but if not, at least you know it will unlock at that point anyway. This is worth knowing if you are going to sit and play the game for long enough to get to that feature.
Download and enjoy a game of the Aztec's Treasure Feature Guarantee slot today!
The time of the Aztec people is well-known and is the topic for many entertaining online slot games. We like the execution of the theme here, especially since the game is a lot of fun and has that all-important guarantee if you want to be sure you won't play for ages and never trigger the free games. It will only benefit those who are in this for the long haul, but if that includes you, the game is certainly worth playing.