Eagle Shadow Fist Slots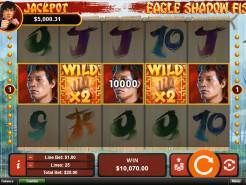 Current Jackpot
$13,025.04
Play Now
If you are a Jackie Chan fan, you'll undoubtedly know the answer. One of his movies was given that title in the Seventies, and there were many other hits featuring this actor too. But even if you're unfamiliar with it, now is the chance to change that, with the release of this RTG slot based on the very same thing. The background is nice but not the focus of this game. Instead, you'll see an Oriental-style mix of symbols popping up on the reels. Will they help you on your way to winning some nice prizes though?
Reels and paylines
There's nothing new here, as we get an appealing five-reel layout offering 25 lines to bet on.
Coin values in play
The game provides coins worth between a cent and one dollar. That means you cannot go higher than a $25 spin bet.
Eagle Shadow Fist special symbols
We've heard of lots of wilds before, but never a Punching Wild! You'll get one here though, appearing as a golden fist. It adheres to that title whenever it appears in a winning combination on the reels. It will also double the value of a line win, so watch for this to appear. Since martial arts provide the theme here, you can expect to see two martial arts people in combat on one of the game's symbols. This is the one that has been chosen to be the scatter symbol.
Are there bonus elements to try and find?
There are 20 free games on offer if you can find three of those scattered combat symbols in one spin. There is a chance you could trigger some cool multipliers to come into play in this feature as well. The best you can hope for is a 4x multiplier, which would certainly trigger some appealing free spins prizes.
Download and enjoy a game of the Eagle Shadow Fist slot today!
Martial arts may not be your thing, but the interesting features in this game mean we have a good chance to enjoy some great elements here. Those Punching Wilds are a terrific addition to the game – they're relevant and useful too. And since you can enjoy bigger multipliers than you often get in the free spins feature, it's easy to see RTG has done an outstanding job with this martial arts-themed Jackie Chan slot game.