Haunted Opera Slots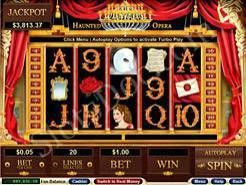 Current Jackpot
$8,220.02
Play Now
If you think about a haunted opera, you may immediately think of a famous stage show called Phantom of the Opera. A quick glance at the reels of this game does suggest the makers were inspired by that tale.
Does this game stand alone as a great title to play if you like solid slot games though? Let's find out, as we explore the many features of the Haunted Opera online slot.
Which developer produced this game?
This is an earlier title from the collection belonging to RTG or Realtime Gaming, to provide you with their full name.
Can you try a demo before committing to the real thing?
Yes, you can load the demonstration to give you an idea of how the game works. Our review delves into all the important areas too though, so be sure you read the rest of this review first.
Theme details for Haunted Opera
There isn't much to reveal here - we know the game is based on the premise of a haunted opera with a phantom lurking around. If you think of the main features of the famous story, you'll get a reasonable idea of what to expect here too.
The game does have a good design
Set on the stage of the theater in the famous story, rich red curtains are draped around the sides of the reels. There is a lot of gold here too, so perhaps that reflects the potential riches you could hope to receive if you had some good fortune come your way during the game.
Learning the basics: What can Haunted Opera offer?
Five reels won't surprise you, and neither will the famous white mask worn by the Phantom in the story. It's a bonzer icon too, as it behaves as a wild during the game. Finding one of those in a winning line would be cool, as it would double your prize.
There's a scatter to watch out for too, this time presented as a love letter. Five of these appearing anywhere in view would trigger a 100x multiplier for your bet on that spin.
Finally, we can confirm there is a jackpot involved here. The progressive appears on your screen as you play, so think of this as a bonus opportunity if you can get it.
How many paylines does the game have?
There are 20 lines, adjustable in nature, so if you want to play fewer, you can.
A good range of bets is available
RTG is reliable when it comes to providing players with lots of wagers to choose from. In this game, you can start from one cent per line for a 20-cent bet across all 20 lines. You could also try a series of other wagers, maxing out at $5 per line.
Don't miss the paytable
It's always wise to check this out before you play. They've made a bonzer table for you, so look at the pages to see how everything works before you get started.
Bonus features in Haunted Opera
There aren't any bonuses here, but you do get the chance to play some free games. We'll come to those next.
Free spins in Haunted Opera
Look out for that love letter to show up on the first and fifth reels in the same spin. If this occurs, you can play through five free spins with double-value prizes on offer.
Better yet, the wild has an increased multiplier of 6x in these freebies. The Phantom might also show up during play. This random bonus feature only occurs during the free games, but if he shows up, you can expect to receive some more freebies to add to the ones you have left.
An unknown RTP
Just as the identity of the Phantom remains unknown, so does the return to player value attached to this game.
Our rating for the creepy Haunted Opera slot game
We're being unfair here, as it is romantic rather than creepy. The game looks sharp and appealing and has plenty to entertain you with. The free games are small in quantity, but with the Phantom capable of awarding more, it could be far easier to secure more than you'd think.
This is worth 7/10 in our eyes. Would you agree?
Are there any occasional winners of the progressive prize?
Sure - some players have walked away with this jackpot. It's not the largest progressive you'll see online, but we would approach it as an extra perk, giving you a chance of netting a bigger prize than you would expect. It's a long shot, sure, but it's there.
Play for practice only to see what you think
We usually say this is the best way to play, and we think a few demo spins will reveal whether you like this game enough to play for real.
RTG casinos should have the real version
If you can find this beauty of a game in an RTG casino, you know there'll be a real version of it to switch to as well.
Mobile gaming with Haunted Opera slots
If the casino has a mobile version to visit and it offers this slot among its titles, you should find you can play it just as easily on a smartphone or tablet too. Android and iOS users are going to love it.