Hidden Riches Slots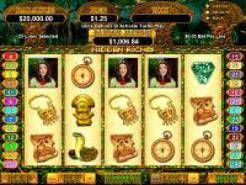 Current Jackpot
$1,635.34
Play Now
If you love taking part in an adventure – even if that adventure only happens online – you're in the right place to make sure you do just that. Welcome to our comprehensive review of the online pokie called Hidden Riches… now, doesn't that title make you want to know more – much more? We've gone on an adventure to find all the information you may want to know about this game. Are you ready to see whether this is the game you've been looking for?
Who is the developer for Hidden Riches?
This one was thought up by the clever folks at Realtime Gaming.
It has the usual demo you might be looking for
And that means you can experiment with the game to see how it works without committing a cent to it to start with.
What is the theme?
Adventuring is the theme, set in Mayan times by the look of some of the symbols in action. We've seen the Mayan theme used before, but this is a favorite example of ours in this area.
The game benefits from a cool design
The background puts us in a temple or building of sorts, given all the bricks in view. You can see mountains and greenery beyond, too. The Mayan feeling is certainly there, and that helps support the direction of the game. The same applies to the icon designs you'll see too.
Reels, prizes, and more in Hidden Riches
There are five reels here, which is no big surprise. You can also see the random jackpot total when you play, although this is only available to be won by paying players, as you'd expect. An adventurer with a hint of the Indiana Jones appearance is our substitute for the pokie. He appears over the odd-numbered reels but not on the other two. If you manage to receive a prize with his help, it will be doubled from the usual amount. The scatter is present too, shown as a stone tablet. Perhaps it has a message on it, but we can confirm scatter prizes are payable for two or more appearing anywhere on the reels. The best prize is reserved for finding five Mayan temples. Five on a paid line would deliver 5,000 coins – unless one of the temples was replaced by an adventurer, in which case 10,000 coins would be yours.
How many paylines are available?
The game includes 25 of them.
Lots of bets to choose from
There are, going from one penny on each line to a maximum of five dollars. Only one coin is playable on each of the available lines.
The paytable is split into several pages
This makes it easier to see all the available symbols and to learn more about the features included in this pokie game.
Will you reveal the bonus wheel?
If you find three of the scattered stone tablets in view in the same spin, the game shows you another screen on which a giant stone wheel is seen. You need to give it a spin to see what happens. The idea is to find three matching icons to secure the prize connected to that icon. The bonus round segment gives you another shot at the round too. There are some hefty prizes to be won here.
Does that mean there are no free spins available?
No, you can still secure some of these, and it is the adventurer that can do this for you. Two wilds bring five free spins, but if you can find three of them, you'll get the maximum 25 free games to play. Everything won during these spins is tripled from its usual value.
RTP is unknown
That is common enough for games from this developer. However, we can confirm the volatility level in this pokie is low, so that means prizes can turn up more often than they might in a high volatility game.
Our rating for Hidden Riches
This is a great game. We are going to award it 9 out of 10 thanks to the separate bonus, free games, and the chance to pick up some cool prizes during both those rounds.
How much could progressive jackpot winners receive?
There is no way of telling, although the potential to get several thousand dollars is certainly there. The maximum jackpot contribution is 1.5% of the return to player value… whatever that happens to be.
The demo provides easy access to check out the pokie
If you're curious to know more about Hidden Riches, you can try the demonstration version of the game whenever you wish. Some players like to do this and never worry about placing real bets. You can do this too if you like.
Would you change over to play for real?
If you would, it's great to see the game accommodates various bet levels. It's a true penny pokie, for sure.
Choose to play on tablet or smartphone if you prefer
This is easy to do if you have an Android or iOS device, because you get the chance to play the game whenever you like. That means you can enjoy heading back to Mayan times whenever you're in the mood to make it happen.