Hillbillies Slots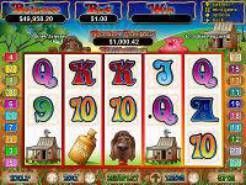 Current Jackpot
$3,103.28
Play Now
Meet the Hillbillies, a bunch of characters taking center stage in this amusing game. Look out for a pig and a dog looking over the reels and plenty more happening on them as you start spinning to play this game. Yes, we're in the countryside for this one, with plenty of moonshine to keep us company. If you want a different spin on a countryside pokie, this could well be the game that gives it to you.
Do we know who came up with the Hillbillies pokie idea?
We do – Realtime Gaming is behind lots of varied slot games, and they've created this one as well. (It also has a sequel if you're interested.)
Do we get the chance to check out a practice version?
Yep, and it is identical to the real thing, as you would hope it would be. The exception, as always, is that you'll be playing for demo credits to keep on practicing for a while. No real prizes are available.
A farm-style theme is in play here
You'll see the Hillbillies themselves as the game gets underway, but there is a farmhouse, a pig in a tub of suds, and a worried-looking hound on the reels too. It's all very entertaining, don't you think… and a little wild!
They've gone for a cartoon design
They have, and it looks good. It's far from being hugely detailed, but it does enough to grab your attention and put you in the mood for some gaming action.
Learning how the game works
Hillbillies has five reels and there is a random jackpot sitting above those reels. Many of the earlier RTG games have this jackpot, so it's good to see you get the chance to grab it again here. One of the highlights of the game is the fact that you get three wild symbols. If you guessed each one was a separate Hillbilly, you were correct. Each member of the family is restricted to their own reel – one, three, and five. Each one also has a multiplier value – 2x, 2x, and 5x in turn. So, if you get a wild in a winning line, the relevant multiplier is applied. Even better is the fact that two or more wilds multiply with each other to create a bigger multiplier. We'll save you from doing the sums and we'll tell you the biggest multiplier you could get is a huge 20x. Maybe we should mention those hard-working Hillbillies are scatters too?
Paylines involved in this game
There are only 10, so we guess that might let you down a little, but it's still a great pokie to check out.
Place those bets before you begin
There are lots of them designed to please all budgets. You can check out this game as a penny slot if you like, but other coins are offered ranging up to five dollars a time.
Don't miss the paytable
This shows you what the symbols look like, explains how the wilds work, and gives you some details about the bonus features also included in the game.
So… is there a bonus?
No, not strictly, but there are some free games, so we'll look at those now.
Free spins to be won in Hillbillies pokies
You only need to get two Hillbillies appearing on their reels to be given eight free spins. That should make it easier to trigger, as you'd normally be asked to get three triggering icons to do it. Prizes receive a 2x boost in these games. There is a special Hillbilly Bonus feature you might trigger in these freebies too – it can't be unlocked anywhere else in the base game. The bonus awards an instant prize that equals their multiplier value, so it would be a cool addition to find during play.
The return to player value isn't announced
That's usually the case with RTG pokies, so it's not too big a surprise. We guess it would be around 95% or maybe a little higher.
Our rating for the Hillbillies adventure
This pokie is one cool game to play. We like it enough to grant an 8/10 score, and it would have gone one point higher if we'd had a separate bonus involving those lead characters. That sure would have been fun, right?
Get the biggest prizes with the Hillbillies involved
Clearly, if you got a prize with all three of those characters on the same line, you could net 20x the usual prize triggered. This looks like being 5,000 coins, so it's not at all shabby.
Fire up the demo to see what you think
This is a bonzer pokie to use as an introduction to Realtime Gaming slots. And with a sequel waiting for you too, it's a game that offers an extra perk if you want it.
Would you play the real thing?
Obviously, the highlights are the wild Hillbillies, the free games, and the Hillbilly Bonus. You can't assume you're going to experience all those things if you play the real game. Mind you, at just one cent on each of 10 lines, 10 cents a pop is a good introduction to the paid version.
Go mobile with the Hillbillies too
Sure, you can play at home on your computer, but why not check out the game on your tablet or smartphone instead? Android users are going to love it, and it looks great on an iPad or iPhone as well.