Lucky Last Slots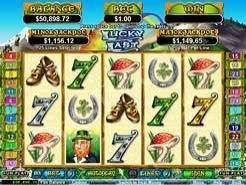 Current Jackpot
$4,042.14
Play Now
Luck is one of the most used words in pokies around the world. We can think of lots of other pokies that use this or a twist on it. Every player wants to be fortunate when playing the real versions of their favorite slot games, so is luck featured as a theme in this game too?
Our review of the Lucky Last pokie answers every question you might have about this game. And yes, you might well guess the overriding theme in this one…
Who created Lucky Last?
This game comes from the large stable of pokies from RTG.
The demo allows you to try it without paying for it
This is a good move if you are curious to see how the game works and how you might approach it if you played for real. It starts with demo credits showing in the balance, so you can use those (even though you cannot withdraw them).
A theme of good fortune
You guessed this, right? The game focuses on a lucky Irish theme, and this is seen throughout your progress. A rainbow is the main attraction in the background of the game, between mountains and green slopes.
Plenty of lucky charms appear in the design
A leprechaun is there, of course, as is the fabled pot of gold. There is a lucky horseshoe containing a four-leaf clover, giving you a two for one charm to look for. The rainbow also appears.
Learning how to play the Lucky Last pokie game
The first thing you'll see are five reels presented on the screen. You are bound to notice not one but two progressive jackpots as well - appearing above the reels and labeled as a minor and major jackpot.
The game includes two wilds, each restricted to a single reel. Both are shown as gold coins, but they differ in appearance. The first one says LUCKY on reel one and the second says LAST on reel five.
The shamrock is another symbol said to bring good fortune. This is scattered over the reels and can therefore unlock scatter prizes.
How many paylines are in this game?
There are 25 available, clearly labeled on either side of the reels.
RTG provides the usual selection of coins
You can play this game with a penny on each line if you wish. There are lots more coin values too though, with the largest being worth five dollars.
Want some more info? Go for the paytable
It's a good idea to look at it before you play for the first time. You may not need to access it again, but it tells you what the game involves before you start.
No bonus here
The Lucky Last slot game doesn't include a bonus of any sort.
Free spins to be won
You can probably figure out what the trigger is for these given there are two wilds in action. Find one of each of the coins on their respective reels and your efforts are rewarded with seven free spins.
Seven is supposed to be a lucky number, of course, so we guess that's why they chose that amount. During those free spins, there is a chance you could find two more coins as well. If that happens, a further seven spins are added to your remaining total.
What's the return to player value?
The value has been written differently on different sites, so we assume that means no one is quite sure. RTG never releases this info anyway, so it's up for debate.
Our rating for Lucky Last
We cannot get past the strange title for this one, but it is still a good game to explore if you like the lucky Irish theme. It is a heavily used theme for sure, but maybe this pokie contains enough appeal for you to try it. We did and we think it warrants a 7 out of 10 score.
Could you join the winners of those progressive jackpots?
We hope you do but we know just as you do that the odds aren't in your favor. Everyone wants to receive the major jackpot, but the minor one can still reach good values before it is triggered.
Play Lucky Last pokies just for fun
The demo version means that this is a possibility for everyone. There are some cool RTG-powered casinos that don't ask you to join before playing a practice game or two either.
Join the ranks of players who regularly play for real
But only if you like what you see, and you think the game is good enough to try. With a penny as the cheapest line wager, there is a chance to make even a small budget go way further with this pokie game.
Lucky Last is available on mobile too
That means you need not fire up your computer to play it. A smartphone or tablet is just fine, offering an easy to access platform for playing this game.