Naughty or Nice? Slots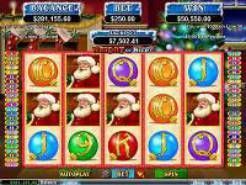 Current Jackpot
$5,152.64
Play Now
It's not hard to find some seasonal pokies to play. It can be tricky to find one that is a little different to the rest, though. Fortunately, we've done the hard work for you on that count, bringing you the chance to try the Naughty or Nice slot today.
Lots of casinos offer this game in their free slots collection, but you could also try the real option. Before you do that, we recommend you read every segment of our easy to digest pokie review. That should give you everything you need to know about this Christmassy slot game.
Which developer is behind this game?
RTG, and they have continued the theme in sequels to the title too - yes, that's in plural, as there is more than one.
Is there a demo to try?
You bet - RTG is a reliable provider of practice alternatives to their real games.
A pleasantly festive theme is in store
Naughty or Nice reveals its Christmas theme in the title, but the reels themselves have had a festive makeover too. Everything about this slot makes the best of the season.
Lots of festive touches can be found throughout the design
While the game does rely on the letters and numbers often used as the cheap symbols, these all appear in glittery fashion on tree decorations. Elsewhere, you get two festively dressed women, a festive wreath, and many other things you would expect to encounter during the festive season. The backdrop is good too, putting us inside a well-decorated home.
Learning how to play the pokie game
The game reveals five reels when it has loaded. This doesn't take long. It also highlights a jackpot above the title, which gradually gets bigger as all progressive jackpots do. All paying players have a shot at securing that jackpot.
The two women we mentioned earlier are wild - the Naughty Girl and the Nice Girl. If you want to collect the progressive jackpot, five of the Nice Girls must appear on one paid line to unlock it.
We mentioned a wreath earlier too, and this is used as a scatter symbol. This qualifies as the only icon that can't be subbed by either of the wild girls in this round.
Play on lots of paylines
There are 50 in all in this game.
Choose your bets wisely
The wagers can go from one cent to $5 per coin, and since that applies to each line, it means you can play from 50 cents a time.
Everything is explained in the paytable
You can see what all the symbols look like there too, which helps you work out which prizes are on offer and how much each one is worth.
Are there any festive bonuses involved?
No, but you'll see in the next section that the game does have a neat feature to look out for.
Free spins in Naughty or Nice
Three scatters will unlock some free spins for you. You will receive 10 of these to begin with. Before they start, choose one of the wild girls to be wild for the duration of those games. She will then award a 2x multiplier whenever she helps you towards a prize in this portion of the game.
There is more, though. Whenever you manage to get a prize involving your selected wild icon, something else will occur. It could be any of the following:
• You could earn an additional free game • You could trigger a multiplier of up to 20x • You could get a respin of the reels
This means the free game feature in Naughty or Nice is far from traditional, as you can see.
RTP information
The slot game doesn't make this available.
Do we give Naughty or Nice pokies a good rating?
We do - this is clearly an 8/10 game at least. We like the free spin feature, the chance to choose a wild, and the opportunity to appreciate further bonus elements whenever a wild prize is won with her assistance.
How often do we see progressive jackpot winners in this game?
More players tend to try this game around the festive season for obvious reasons. That means more cash goes into the pot and more people are spinning the reels. So, the odds of someone winning the jackpot do get better. That doesn't affect the individual odds, but it's still nice to see someone scooping it around Christmas time, right?
Play today for some bonzer entertainment
There is no need to play the real version to have some good times with this pokie. Since there is a demo version available, you may never go beyond it.
Supposing you do want to play for real?
Covering all the lines from just 50 cents per spin opens the way for many players to give this one a try. Maybe you'll like the demo enough to switch.
Naughty or Nice on mobile
If you prefer playing pokies on smartphones or tablets, you'll be pleased to know this game can be loaded onto those devices. You shouldn't need an app to do it either, as most RTG casinos are great to use if you visit the mobile version.