Paris Beauty Slots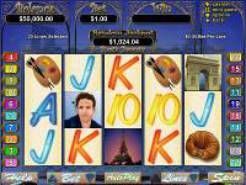 Current Jackpot
$3,565.94
Play Now
Paris – the city of romance, the city where the Eiffel Tower can be marveled at and even climbed, giving a view over the city from high in the air. Will you get a sense of Paris if you check out this pokie that mentions it in the title? Is it as beautiful as this title would suggest? We would hope to get a feel for the city in this game, so we decided to review it for you here. Pokies based on locations are common enough, so does this one stand out?
Developer details for the Paris Beauty pokie game
This is another title to come from Realtime Gaming. It's been around for a few years, so let's see if it still ranks well today.
It does give us the chance to try a demonstration version
This loads with demo credits in place, so we need not worry about dipping into our own funds to try it.
The theme revolves around Paris and a different beauty
The beauty of the title could be the city itself, but it turns out to be a woman. The background has a few hints of the Paris skyline, so you can entertain yourself looking for those before you play.
The design is basic, but it works with the theme
As it should do, really. Look out for some Paris landmarks, a guy who might be an artist, an artist's palette, and a croissant. Mmm, now that is making us hungry…
Learn more about the basics in Paris Beauty
Firstly, there are five reels. These work on the usual premise of giving you three symbols per reel when the spinning stops. You can also spot a progressive, random jackpot above the third reel – common in some of these older RTG pokies. The beauty of the title is used as the substitute symbol, so she comes in useful during play. She has a larger multiplier than you might expect too – instead of the usual 2x she offers 3x for wild prizes. She'll replace everything apart from the Eiffel Tower which is used as a scatter symbol.
A familiar quantity of paylines
Yes, you'll see 20 of them clearly labeled as you get started.
A familiar betting range too
If you like RTG games that give you the chance to use a coin worth between a penny and $5 per line, you can view this as just such a game.
Paytable details
This shows you what all the symbols look like and how much you could potentially win from each one if a successful combo appears. We would always recommend starting here if you're new to the game.
Bonus features in Paris Beauty
We'll keep this bit quick as there are none.
The free spin round offers more than you might guess though
Firstly, you need to trigger those games. You can do this by finding three or more scattered Eiffel Tower icons during a spin. This brings you 12 freebies to enjoy, which include a 2x boost for every prize won. If a free game contains two or more Eiffel Towers, you'll receive some respins as well. So, while you get 12 free games to start with, your time in that round could be extended thanks to the appearance of the respins too… if you can get them.
RTP for Paris Beauty
This is uncertain as the software developer doesn't make a habit of releasing the details for their pokies.
Our rating for Paris Beauty
This is indeed a beauty of a pokie to play. It's standard, to be honest, but the inclusion of respins in the free spin feature is a good addition. There's no guaranteed they'll occur, but if they do, you'll like what you see.
Do we ever hear about any random jackpot winners?
This is possible, but it may not always happen. Modern RTG games tend to attract more players looking to score a progressive prize, so the headlines aren't often made by these older games.
Play for practice
Paris Beauty is a good one to try if you're a fan of the city or you like pokies based on different locations. It's easy to play, has some appeal, and a few neat features to look for too.
Will it hold enough appeal to persuade you to play for real?
Maybe… but you'll need to check out the demo to get your answer on this count. Paris Beauty is truly a beauty, but it may not have enough poke to persuade you to switch to trying some real wagers to see what happens.
Did you know there's a mobile version too?
If you like relaxing and checking out your favorite pokies on a tablet or smartphone, whether it's on the iOS platform or on Android, you can do just that with this game. It's a cool opportunity to grab a chance to play this bonzer game, for sure.