Roberta's Castle Slots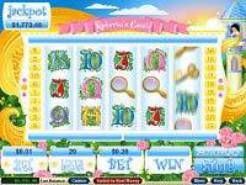 Current Jackpot
$8,395.87
Play Now
Castles show up often in pokie games. They stand tall and take us back to a previous century when knights in armor and kings and queens ruled, usually with lots of drama. So, does that tell us anything about the Roberta's Castle pokie we're going to check out here? It does, but this story doesn't go in the direction you might think. If you like your pokies to be created by people with a clear sense of humor, you're in the right place to get just that. Roberta's Castle is based on a great theme – one we'll reveal shortly.
First, though, who came up with this pokie?
This game was developed by RTG. You might know them better as Realtime Gaming.
It does have a demo
It's unusual to find a game from this developer that doesn't have a demo, so you're in a good place to get the chance to check it out to see just how good it is. Keep your coins in your pocket until you've discovered more.
Figuring out the theme
Since a castle is mentioned in the title, you might think of royalty set in the past. But the theme is based on Rapunzel. Remember the story of the long-haired woman who allows her suitor to climb up her hair to reach her in her tower. The fairytale precedes the Brothers Grimm who made it famous worldwide.
A fairytale design
Expect lots of bright pastels here, with blue skies, white fluffy clouds, golden touches around the reels and even the occasional hair braid!
How to get started at Roberta's Castle
You are invited to spin five reels if you decide to play this game. The game stands out from other RTG pokies of its time, as there is no progressive jackpot available to try and win. However, the prince in the famous fairytale is put to work as the substitute symbol. He'll double the value of all your wild prizes too. The castle appears in the game as well, and this is used as a scatter to allow for scatter prizes to be won.
How many lines does the game have?
There are 20 paylines involved in this title. They are not fixed, so it's up to you whether you play them all.
Bets you could place in this game
There are plenty of available options, starting from the minimum penny wager for each activated payline. You could also choose from various other values, reaching the maximum of $5 per line to give a $100 maximum total bet.
Don't miss the paytable
It reveals and explains more about the symbols in the game and the features you might encounter as you play.
There is no bonus to access here
Sadly, this pokie doesn't offer a second screen bonus. Plaiting some hair would have been a good one though, hey?
Free spins can be won though
Yes, and you get the chance to net 15 of them if three castles turn up in one spin of the reels in the base game. The big attraction during these spins is that the wild prince carries a much more generous multiplier worth 6x whenever he helps you get a prize. That could mean you are treated to one or more much bigger prizes than you thought.
Do we know what the return to player value is?
No, as that information wasn't released by Realtime Gaming.
Our rating for Roberta's Castle
We like pokies with a theme based on a fairytale. So, this is a good one for us, even though we think it could have been improved by including a second screen bonus. We couldn't give this a score lower than 7/10 though.
The biggest winners may come from the free spin round
We know there is a huge wild multiplier of 6x involved there, so putting together some prizes with the help of the prince would surely be a bonzer outcome.
Play Roberta's Castle for some entertainment today
You can begin by loading the demo to see how the game works. If you like it, it's easy enough to switch to the proper paid version.
Play for real but make sure you have a budget in place first
This pokie has 20 lines, each of which can be played from one penny a time. That means 20 cents gets you a spin that covers all the potential winning combos. Even then, it is still important to check out the possibilities and to see if you can figure out how to get the most out of your available budget. Don't expect to secure any prizes either – that's not how these pokies work. Play for enjoyment more than anything else.
Mobile options to think about
Android and iOS users can find Roberta's Castle in most good RTG mobile casinos. You might also access the game using other mobile platforms, so check out the possibilities today.