Ronin Slots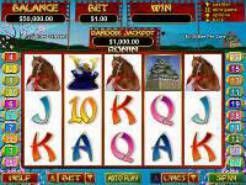 Current Jackpot
$2,165.67
Play Now
Plenty of pokie games are based around a character. Some we know, some are strangers. By the time we've played a few spins though, we know more about the ones we hadn't met before.
You may well feel the same about this pokie game. Known simply as Ronin, the title is the name of the main character you'll meet when you check it out. We've been there first, of course, to write this review. Does Ronin have plenty to offer? Let's see.
The developer is revealed as…
Realtime Gaming. Ronin was released a while ago, but it looks good today and uses a good theme too, as we'll see in a second.
You can try it out without paying for it
The demo is easily accessed at a casino running on RTG software. Just be sure you're selecting this option. It should load with a demo balance shown in the top left corner of the game.
What's the theme?
It's an Oriental one, and we do like these because you are assured of lots of dramatic and appealing imagery. That's true of this game too, thanks to its varied icons.
What does the game look like?
We have an outdoor scene with cherry blossoms in the background. There's a mountain too, along with blue skies. There isn't much else, but the various balance, bet, and win areas above the reels are displayed on red banners with gold wording.
How to get started playing this pokie
You'll see the usual 5 x 3 format in action here, with various symbols cropping up over those five reels. There is a random progressive prize on offer too. Few will be fortunate to collect it, but the random trigger means you never can be sure when it might drop.
Ronin is wild, appearing in red robes with a sword. He won't replace the Koku coin though. This is also wild, but it only shows up on the middle reel of the game. This can also replace everything, except for Ronin. Unusual but good to have two wilds in a game.
There is a scatter involved too though… but that is Ronin as well. The same icon acting as the wild and scatter makes it easy to see whether you can net any prizes with that.
Guess the payline quantity
If you were thinking of playing over 20 lines, you are correct. Many of the RTG pokies based on this format provide 20 lines, and this one does too.
Choose your bets from this range of coins
Start with just one penny per line if you like. The most you can wager on a line is five dollars.
The paytable is important to read
Do this before you begin, so you can see how the wilds work and what the options are in terms of the bonuses. Yes, plural!
There are three superb bonus features in Ronin
This has an unusual trigger too. You need the Koku coin to appear on its reel (the third one) along with two or more Ronins anywhere else. Once you've done that, one of three bonuses are then granted.
The first is a respin bonus. The Koku wild takes up every position on the third reel. You're then awarded between three and 10 respins of the remaining four reels. Whenever two or more Ronins appear on the same respin, you are given between three and 10 more respins to play through.
Since the other two bonuses revolve around free games, we'll get to those below.
The free spin alternatives
The second potential bonus would be to get five free spins with an increasing multiplier. This goes up by 1x for each spin, starting at 1x for the first game and finishing on 5x for the last one. One retrigger is possible, in which case the multiplier would reach 10x in the 10th and final spin.
The third possible bonus would be to receive 25 free spins. During these games, everything won is given a 3x multiplier. You can also retrigger these, and yes, you're right… that would mean another 25 games are granted.
The Ronin RTP is unknown
That's typical of all games from this developer. We can get an idea, but that's about it. Their games usually fall at around the 95% mark but sometimes a little more.
Our rating for Ronin
This pokie may not be the best-known one RTG can provide, but we think it should be more famous than it is. It's a great game with wilds, scatter symbols, and three possible bonus features. They're all great too.
We're ranking this as a 9/10 pokie. Would you agree with that?
Potential winners should watch out for Ronin
He's the ideal guy to find on the reels. He pays out up to 500x your bet for five anywhere in view, but if you can get five on a paid line the outcome is far better. This would be 5,000x your line bet… unless you had a coin on the third reel in the correct position, in which case the prize is doubled to 10,000x your wager.
Play the demo for a while to see what you think
We doubt you'll be disappointed with this game, as there is plenty to look out for as you spin those reels. Ronin is a useful guy to meet, that's for sure.
Are you going to play for real?
A few demo spins should reveal the answer, which we suspect will be yes.
Go mobile with Ronin today
This is a cool game to play on a tablet or smartphone. If you have an Android device, an iPad, or an iPhone, you're good to go.