Santa Strikes Back! Slots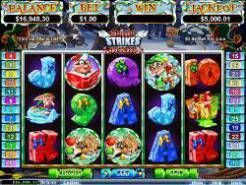 Current Jackpot
$7,498.76
Play Now
If you think you have seen everything there is to see in a Christmas pokie, think again. We aren't spoiling anything by revealing the theme in this game, as Santa gets a mention right at the start of the title. You might still be surprised by some of the facts we are shortly going to reveal though. Having played the game long enough to understand how it works, we're going to share our findings from Santa Strikes Back in our slot review here.
Which game developer created this title?
This game comes from Realtime Gaming. They have a good pedigree when it comes to producing different festive pokies that take us in new directions.
A demo version is assured
You can always test an RTG pokie before you play the real thing, and we approve of that. It's true of Santa Strikes Back too.
A different take on a popular theme
Seasonal themes are always good to see. Christmas is likely one of the most popular seasonal themes around, but this version provides a different look at the theme. You'll see why shortly.
An amusing design is in action here
Santa and Rudolph look as if they are at loggerheads in this game. We loved the wrapped gifts – making even the usual dull letters and numbers look amazing. It looks like it could be Christmas Eve given the backdrop – a dark wintry night. Elves and other seasonal icons appear in the game too.
How to get started playing Santa Strikes Back
The game offers the typical 5 x 3 format with five reels to spin. There is a progressive jackpot here too – you'll spot it in the top right corner of the game. You can probably figure out who takes the wild role – it's Santa, of course. He must appear five times on a paid line to unlock the progressive jackpot. The only thing he cannot replace during the game is the Victorious Rudolph scatter. Oh, and the Victorious Santa icon – yes, you get two scatters in this game.
Expect to see 25 lines in play
You'll need to play all of them too as they are fixed.
Are there fixed coins in play as well?
No, there are some options to choose from. However, the cheapest is a penny per line. The biggest total bet on offer is $125.
Don't miss the paytable before you start
This tells you more about the game and lets you identify all the icons prior to play.
Are there any festive bonuses to pick up?
No, although that shouldn't dissuade you from trying the game. There are other delights to be found instead.
Would you like to play for a set of free spins?
Two scatters might suggest there are two rounds of free games to be won. That would be correct. The idea is to find three matching scatters to unlock the relevant round of free games. You'll get seven free spins in each case, but there are variations between the two options. Three Victorious Santas would trigger the Santa Strike Back round. The base multiplier of 1x gets you started, but you need to look for candy canes on two symbols to light the stars appearing at the top of the screen. This resets the games to seven and increases the multiplier. The potential is there to reset the games a maximum of 19 times. If you found three of the Victorious Rudolph scatters instead, you would play the spins with a 2x multiplier given on all prizes. This would be increased if Santa showed up in the triggering spin. More Rudolph scatter symbols would grant you more freebies too. This is the only scatter appearing during these games, so you never know, it might happen…
No firm RTP for this one
Realtime Gaming tends to keep this info under wraps. It doesn't affect the potential return you might achieve during play though – it only relates to the total return that should be achieved over the lifetime of the game.
Our rating is a good one
We are going to give this 9/10. Two scatters and two free spin features are good enough for us, yet there is more potential here too. It's a great game that packs in lots of festive entertainment.
Possible winners are looking for Santa…
It is impossible to know how high that jackpot might go before it is unlocked. Finding Santa five times on one line is the key, as we know, and that must surely be the hardest key to find. It's good to try though!
Play the game for some festive entertainment
There is a lot to enjoy when you load this game. We played it during the summer one year and had just as much fun doing so as we would in the run up to Christmas.
Play for real anytime, too
If your budget fits a 25-cent spin wager, this is a superb festive game to check out. It is hard to imagine not being able to play this occasionally as a game that puts a smile on your face.
Mobile gaming at Christmas
Santa Strikes Back is available to play however you wish – and that includes on any Android or iOS device you might own.