Tally Ho Slots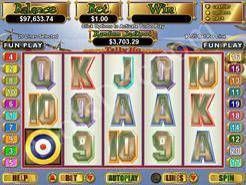 Current Jackpot
$2,115.52
Play Now
Online slots or pokies tackle all manner of different themes. We bet you've never tried one with this theme before though. The Tally Ho pokie game is in its own category in that way, and we think you'll like what you see here. We've tried it to see what it can offer, so you can check out the potential that lies within the reels and paylines of this game. Get ready for an awesome experience.
Developer information for the Tally Ho slot game
This is a superb addition to the large gaming collection put together by Realtime Gaming.
It does have a demo as well as the real version
They're identical to each other, except for the demo having practice credits you won't be able to withdraw. That means no real prizes, but it also means you won't risk anything by checking it out.
So, what's the theme?
Tally ho is a British saying that is connected to pilots. Not just any pilots though – members of the Royal Air Force used to say it when flying during the war. We doubt you've seen any other pokies with a theme quite like that.
An airborne design
No surprise here since the theme revolves around planes. Several can be seen in the sky behind the reels, so you'll get the feel of the game right from the start. The background is minimal, but it does enough to set the scene.
How to start playing Tally Ho
There are five reels to start you off. Three symbols appear on each of them. While the letters and numbers are used as the cheaper icons, they all look shiny and appear in various colors. There are more relevant icons there too though. Pilots, maps, targets, and more all appear in the game. You also get a random jackpot amount positioned above those reels, so there is another prize to play for there. The pilot is the substitute, appearing over the middle three reels and replacing all other symbols with the usual exception of the scatter. This is shown as the target or roundel, which appeared on the sides of the British planes during the war.
How many paylines are in the Tally Ho pokie?
There are 20 lines, which is common in the RTG titles from the same period. This game has been out for a few years now.
Choose from the usual bets offered by RTG
That means a penny is the lowest value, with other coins taking you to the maximum value of five dollars per line. Just one coin can be played on each line too.
The paytable tells you more about the game
We'd advise you to check out the paytable prior to your first time playing this pokie. While the demo mode means you won't lose anything, it's still good to see what is in store for you if you play. This paytable is cool because it's designed to look like the cockpit of a plane.
There's no bonus in Tally Ho
No – nothing to see here.
What about some free spins of those reels?
You can secure some of these, with 25 of them available to be won. The paytable says 'up to 25' but it also says you get 25 whenever three or more roundels are found. You can also look forward to having a 3x multiplier in action for those spins.
RTP unknown – as you might have guessed
Anyone who has some knowledge of RTG pokies will know that the games aren't released with the return to player percentage. It's common for them to sit at around 95-96% though.
Our rating for Tally Ho
We liked this slot a lot. It's based on a common format – something you've no doubt seen before – but that's not an issue. The generous free spins feature is the highlight for sure, along with an unusual theme. It warrants a 7/10 score, don't you think?
How many have won the progressive jackpot?
And how much is it worth? It's hard to say, but it does pay out. It also triggers a smaller jackpot than many other more popular games, although it's still worth winning for sure. The paytable tells us that a maximum of 1.5% of each bet is placed in the jackpot.
Play Tally Ho as a demo
That's the best way to start, so you can see if this theme is as good as we think it is. It's certainly a nice slot to play if you like checking out unusual themes that very few developers touch on.
Play for real if you like what you see
If you're already a member of a casino offering Realtime Gaming titles, it doesn't take long to change from the demo version to the real thing. Obviously, you'll need to figure out a budget to use to start with.
Going mobile with Tally Ho
Yes, this is another option to think about. The game provides clear imagery, so playing it on a smaller smartphone or tablet screen is still simple enough. The controls change though, of course, given the touchscreen, so try the demo on Android or iOS to get you started. Then you can see if you like the Tally Ho pokie enough to return to it often.