Glitz and Glamour Slots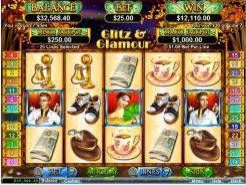 Current Jackpot
$2,239.76
Play Now
The title is self-explanatory, giving us some insight into the glitzy and glamorous lifestyles of some of those in society. There is plenty of detail here too, which makes the game more appealing to play. You may not win enough to trigger a glitzy and glamorous lifestyle for you, but with all the trappings of that life on the reels, there are still some excellent prizes on offer here.
Reels and paylines
The game begins in a familiar way. There are five reels to get spinning with, and these bring along 25 lines for the ride.
Coin values in play
A good assortment of coins is always good to see, as it means you should find a suitable total bet amount to fit with your budget. Here, the coins go from one cent to a dollar.
Glitz and Glamour special symbols
The game includes two wilds, a man and a woman. The man appears only on the first and fifth reels, while the woman appears on the third one. They each have a multiplier too – the man awards a 2x multiplier whenever he helps you secure a prize. Meanwhile, the woman awards a 3x multiplier in the same fashion. And if you get one of each in a prize-winning line, your prize is boosted to the tune of 6x its normal value! There is a scatter here as well, and this is designed as a classic car. This has its own role to play, too.
Are there bonus elements to try and find?
That car is the key to finding your free games. There are 10, 20, or 30 of these on offer. To get them, you must secure three, four, or five cars respectively. There is an opportunity to win further games, but you must find another three or more cars in a free spin to achieve this.
Download and enjoy a game of the Glitz and Glamour slot today!
There is nothing new in this game, but the presence of two wilds – each with its own multiplier – makes a good game better still. You'll be watching for those cars to appear, no doubt, but knowing those wilds could trigger some cool multipliers makes every spin more interesting to go through. Will you enjoy a slice of Glitz and Glamour by playing this game today? We wish you the best of luck.