Incan Goddess Slots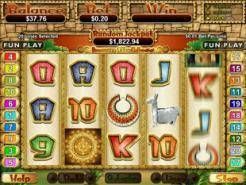 Current Jackpot
$2,466.53
Play Now
The Incan civilization is long gone, but it still makes itself known today. We have ruins we can visit, but you won't need to leave home to check out the familiar sights that come with learning about Incan times. The Incan Goddess pokie game isn't the most complex one we've seen on this theme. However, it does have some appealing elements. We'll uncover those for you in our full slot review right here.
Do we know the identity of the game creator?
We do – this one comes from Realtime Gaming. It's not a recent release but it still looks good today. It reminds us a little of Achilles if you remember that game.
There is a demo you can try first
This gives you the chance to try the game before paying to play it. Most RTG casinos should give you access to this version. We recommend it, as you can see how it looks and feels to play.
Theme details
We've covered this already – the mention of an Incan Goddess in the title reveals that we are indeed focusing on the Incas here. You can expect to see a few icons that relate to the theme as you play. It's not the most complex of Incan-themed pokies, but it's still a good game.
Does it boast a cool design?
The blocks of an Incan structure form the backdrop for the game. That's about all there is to that backdrop though. Elsewhere, the letters and numbers you'd usually see have a blockier appearance. Aside from those, there are other icons that are related to Incan times.
Reels, jackpots, and more – what does the Incan Goddess pokie provide?
Five reels are clear enough to see when the game begins. The same can be said of the random jackpot amount displayed above reel three. You won't score a prize for figuring out that the Incan Goddess is going to appear as a wild icon. She replaces all but one other symbol – the temple. You might well suppose this is the scatter, and you're correct.
Paylines in Incan Goddess
This is a bonzer slot with 20 lines in action.
Lots of possible bets to consider
The game provides you with the standard array of bets for an RTG title. They go from a cent each to five dollars each, so you should find something in there that appeals.
The paytable shows you what all the icons look like
When the game loads, you're going to see several icons on the reels in the starting position. They won't all be there though, so do read the paytable to see which other icons can appear during play. The rules are all there too.
Check out the Double or Something bonus
This isn't your usual gamble feature, which would typically be called a double or nothing feature. Instead, this is a bonus that unlocks if you manage to get a five-icon prize on a paid line. The idea is that you get two options – you can choose red or black. If you guess the right color, the prize you just picked up is doubled in value. But what happens if you guess incorrectly? Not to worry – in this case, you retain the five-symbol prize. Nothing is lost in this round, hence the title.
There are some free spins to be won too
Find three scattered temples and you will be granted a set of 12 free spins. These all come with a 2x boost for anything won during play. The goddess is present too as the wild, and her 2x multiplier is also in action. If you managed to score a prize involving the wild in a free game, then, you'd get four times the usual prize amount.
RTP details for Incan Goddess
There is no clear return to player percentage here, as RTG never makes this information available.
Does this pokie get a good score from us?
It can be played as a penny pokie, it's got a cool five-icon prize bonus feature, and there are free games available. Enough there to earn an eight out of 10 score, don't you think?
The random jackpot would be the best outcome, for sure
Few players will ever get it although many will try. This is a bonzer slot for lots of reasons, and this is certainly among the best.
Play the demo to form an opinion
Will you love or hate this pokie? There's only one way to find out safely, and that's to try the demo version. The Incan Goddess awaits…
RTG casinos offer the real version from one cent per line
If you do decide to switch to the real game, you can get started with a cent on each line if you wish. That means 20 cents will cover every line you could find a prize on.
Mobile options are available too
One of the great things about playing modern pokie games is that many of them are accessible on tablets and smartphones too. That should be the case with this game if you check out an RTG casino with a strong mobile presence. Do that, and it could be your favorite way to play the Incan Goddess pokie today.