Derby Dollars Slots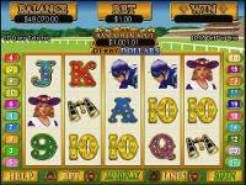 Current Jackpot
$3,294.32
Play Now
With the mention of the word Derby, it's clear we are heading for a horse racing theme in the Derby Dollars slot game from Real Time Gaming. There is no need to be a fan of this type of racing to enjoy the game, although of course it will help if you are.
This is a game boasting lots of colors and a vibrant screen, and yes, it has some nice prizes to be won as well.
Reels and paylines
With a five-reel format in use here, RTG has slotted 20 paylines into those reels to help you try to win multiple prizes per spin.
Coin values in play
You can wager between one cent and $5 on each of those 20 lines in action. This means most players will find a suitable bet to place on the reels.
Derby Dollars special symbols
Would you be amazed if we were to tell you the wild was depicted as a horse? We guess not! It doesn't have a multiplier value attached to it, but it can help you win prizes where you may not otherwise be able to do so.
You will also see a gold coin featuring a horse's head, and you'd guess correctly if you realized this was a scatter symbol.
Are there bonus elements to try and find?
Those coins can be very useful to find, because you only need two to secure some free spins. The more coins you find, the more spins you will get. Two, three, four, or five coins will bring you five, 10, 15, or 25 free games. Let's hope you can find plenty of them!
The best bit is that no matter how many spins you win, you will always get prizes that are worth three times the usual amount. Better yet, you'll find more horses and coins during those free spins to help things along.
Download and enjoy a game of the Derby Dollars slot today!
Derby Dollars is a delightful game, and one that has lots of reasons to play it. If you are a fan of horse racing, or even if you're curious to find out more, Derby Dollars could certainly bring a few dollars your way. This is a standard slot game with a few extras, and that is always a nice thing to find. Saddle up and good luck!