Dream Run Slots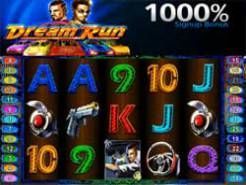 Current Jackpot
$6,207.68
Play Now
When a sporting icon manages to succeed in beating lots of other players, we might say they have gone on a dream run. That's where the inspiration for this title clearly came from, but what else can this game teach us?
We can reveal the theme is based on car racing, rather than racing on foot, so that might provide some clues to some of the icons you might spot as you begin to play. Let's see what else lies in store for us here.
Reels and paylines
The format has been used plenty of times, since it provides five reels and 25 lines to place some bets on.
Coin values in play
You can only play one coin on each line, so it's surprising to see the most expensive coin is limited to a quarter. There are far lower values though - including the lowest one of all, a cent.
Dream Run special symbols
We love games with two wilds in action, and that's what we get here. One of them is a racer that shows up on the first reel and no others. Include one of these in a winning line and you'll boost the winnings by x3. It can substitute for most icons, but not for the lights.
The second wild is the opponent. As you might suppose, it appears on the remaining four reels from two to five. There's no multiplier attached to this one, but it works in the same way the other wild does, replacing all but the lights.
The lights are scatters, with two or more required to try and win a scatter prize. This will only occur if all the scattered lights turn green… otherwise, you miss out.
Are there bonus elements to try and find?
The game includes a Dream Run Racing Feature. You need three or more scattered lights to turn green to unlock this. Choose one of the available cars to race and see how you do. If you win, you get 25 free games. You're assured at least five if you come last though, so watch and see where you come in the final standings.
If you finish first, second, or third, you'll race again for a multiplier between x5 and x100 for your free games.
Download and enjoy a game of the Dream Run slot today!
If racing is your thing, Dream Run could be a dream game to play. We hope you race into pole position for some prizes today!