Rudolph's Revenge Slots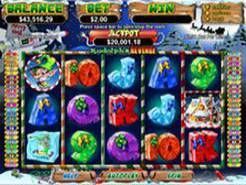 Current Jackpot
$35,864.06
Play Now
That's a bold claim. How can we tell which pokies you might love or hate? Simply because this one puts a new twist on a familiar festive theme. The title alone ought to suggest where this one is going. It's Christmas time and not everyone is happy about it!
Rudolph's Revenge is a superb title and the game doesn't disappoint either. In fact, when you see how much is on offer, you won't want to miss out. Before you load it and play though, check out our review to learn lots more about it.
Who is behind this pokie game?
Realtime Gaming has released several superb festive slots over the years. This is another one to add to that group, and possibly could be the best of all.
You can find out how everything works by playing the demo
Expect a festive background in this game and lots of action happening on the reels. That feeling of activity is just one reason why it makes sense to try a few spins of the demo game before you do anything else.
A truly Christmassy theme
We love pokies that revolve around the festive season. This one makes the most of it too. We can even forgive RTG for including the Q, K, and A letters because they are all gift wrapped and have bows stuck on them.
More details about the game design
Rudolph's Revenge is a good game to try for many reasons. The details are superb - even in the festive background, you can spot a rocket that looks to be aimed at Santa's sleigh… Wow, we guess Rudolph really is after some revenge. Aside from the wrapped symbols, you can also look out for a festive house, some elves, and even some characters trapped in blocks of ice.
Get started playing Rudolph's Revenge pokies today
When the game is loaded and ready to go, you'll see a standard 5 x 3 reel set in play. You can probably guess that Rudolph is going to be the substitute symbol, and he does indeed do that, offering a 2x boost whenever a prize is gained with a wild involved.
There is a gift as the scatter symbol, although it looks suspiciously like a bomb to us. Not the sort of gift anyone would look for, right?
Rudolph has another role to play too, though. If you want to win the progressive jackpot that is shown above the reels during play, you need to find five Rudolph symbols on one line. The jackpot then automatically drops.
This game adopts a fixed payline approach
And there are 50 of those involved, so there is a lot to look for as you play.
How many bets can you choose from?
You might notice there are no controls to change your bet amount up or down. That's because a standard four cents per line is required to play the real version of this pokie. With 50 lines in play, every spin is going to cost two dollars if you're playing for real. Make sure that fits with whatever your budget is before you begin.
The paytable explains everything you should know about the game
There is a lot to take in too, so spend a few minutes reviewing the details before you get started - even once you have read our in-depth pokie review here.
No festive bonuses in this game
There could have been plenty of bonus action here, but RTG has decided not to include any.
Don't worry - there are some free spins to be won
The main attraction in Rudolph's Revenge is the free spin feature. To go through to this round, you need to locate three of those scattered bombs in the main game. You'll get seven freebies here, with a chance to trigger them again too.
If you manage to trigger the round with four or five symbols, you'll get additional wilds in play too. The scatter goes wild with four triggering icons and Santa goes wild too if five icons unlock the feature. The more the better when you play this game.
The RTP isn't certain
Rarely does this outfit release the info on this aspect of any of its slots. However, there is plenty to enjoy as you play, and the RTP rarely goes below 95%. We suspect this one might be higher, too.
Our rating for Rudolph's Revenge
This pokie has plenty of amusement value, especially as poor Rudolph doesn't seem happy with pulling Santa's sleigh. It's a real festive delight, albeit one that has a more dramatic theme involved. We couldn't give this a score rating any lower than 8/10.
Progressive jackpot winners could be in line for some massive prizes
They could, especially as the game offers some excellent jackpot amounts. When you think about it, $2 per spin is going to increase the jackpot quickly, especially as this game becomes more popular around the festive season.
The demo provides a good way to begin
It does, and we think you will be glad you tried it. If you play long enough to unlock the free games, you can see how those work too.
Will you try the real version?
The game is designed to appeal to a specific slice of players, given the higher $2 bet amount in play. There are lots of other cheaper Christmas pokies you could try instead if this one doesn't fit your budget - some of which are available from RTG.
Mobile festive entertainment is available as well
If you thought you needed to be at your computer to play this bonzer game, think again. You should find you can play it on an Android or iOS device too, giving you the freedom to play whenever you wish.