Aztec's Millions Slots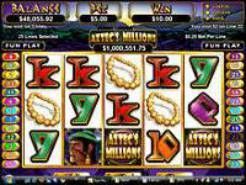 Current Jackpot
$1,319,302.63
Play Now
Wouldn't that be nice? This game has been around for a long while now, yet the title is probably already familiar to you. While lots of older games are forgotten and replaced by far newer ones, some of the oldies are still goodies to play! This sure does apply to Aztec's Millions. One main reason for this probably has something to do with the huge progressive jackpot that can climb into seven figures. Yep, that means you could win $1 million, and maybe even more.
Reels and paylines
The game uses a standard format that features 25 lines arranged over five spinning reels.
Coin values in play
There is a huge progressive jackpot on offer here, which means you should expect to bet a lot more on this slot than you would on many others. There is no decision to make other than whether you're prepared to wager $5 per spin here. That equates to 20 cents on every line.
Aztec's Millions special symbols
There is an Aztec king appearing in this game. When he does appear, he will be wild. There is an idol here too, which behaves as a scatter symbol, triggering scatter prizes if you can find enough of them. Another important symbol – possibly the most important of all – is the game logo. If you want to win the progressive jackpot, you'll need to find it five times on the reels. If that happens, get ready to celebrate!
Are there bonus elements to try and find?
Yes, the game does bring along the opportunity to win some free games. You need some idols to win these. Three, four, or five will win varying amounts, from just five games for three idols to 25 if you have five of them appearing in a spin.
Download and enjoy a game of the Aztec's Millions slot today!
The main attraction here is that huge jackpot, of course. If your budget can stand the large spin bet here, you also get the chance to win bigger prizes of other kinds. We all recognize the long odds for the progressive jackpot to come our way, of course, but this is a nice game to try if you are happy to make bigger bets on each spin. You never know when the jackpot is going to be awarded next. If you're playing, could you be the lucky one?