Coyote Cash Slots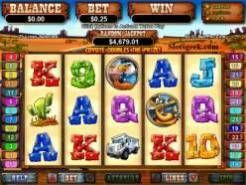 Current Jackpot
$1,532.71
Play Now
The mention of a coyote puts us in some wild territory for the Coyote Cash slot game from Real Time Gaming. It's not a huge surprise to spot some cacti here then, and of course the coyote also appears. But none of this will reveal what Coyote Cash is all about. Does the coyote appear and hand you some cash winnings? Let's see how this game is designed, to discover what might be about to occur.
Reels and paylines
Plenty of RTG slots include 25 lines across five reels, and this one does just the same.
Coin values in play
There is a good selection of options here, from one cent if you like to play penny slots to a quarter on each line.
Coyote Cash special symbols
The coyote is used as a special icon in this game, and logically it does appear as a substitute icon. This pays the best prizes, with up to 10,000 coins available to win with its help. You'll need to find five coyotes on a line you've placed a bet on to win this. The wild coyote also has a multiplier, offering double the usual prize if it appears in a winning combination. Meanwhile, the game also offers a scatter, which is the one thing the coyote won't replace. The scatter is shown as a green swag bag with loot written on it.
Are there bonus elements to try and find?
How many green loot bags can you get in a spin? We ask that because three or more will reward you very nicely indeed, with 20 free games coming your way. You get a multiplier here too, which is determined by the number of triggering loot bags you found. Three, four, or five of those delivers a multiplier of 2x, 3x, and 4x. You can trigger more free spins in the same way you originally did. If you manage to do so, you get to keep the starting multiplier for those spins as well.
Download and enjoy a game of the Coyote Cash slot today!
Coyote Cash is nicely designed as a cartoon-style slot game. If you've tried your luck with a few slots like this before, you might like to check this one out too. Will that coyote award you with some cash if you get five on a line, or will he help you as a wild?