God of Wealth Slots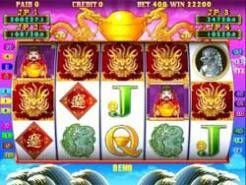 Current Jackpot
$5,702.81
Play Now
The God of Wealth… doesn't he sound like the type of god you'd want to have on your side in a slot game? You'll play for prizes, after all, and if he is a benevolent and helpful god, he might be good to have around. Chinese themes are popular for lots of reasons in online slot games, and you'll see yet another example of this here.
Reels and paylines
There is nothing unusual in this part of the game, as you get five reels on which you'll find 25 paylines.
Coin values in play
With a chance to wager between one cent and a quarter on every line, you can cover all the lines from 25 cents to $6.25 per spin.
God of Wealth special symbols
You won't be shocked to discover the God of Wealth as a wild symbol. Sadly, he doesn't pop up everywhere – only on reel three. He does grant you double the usual prize amount whenever he helps you form a winning line though. There is a gold ingot on the reels of this game too. Find this, and you've found the scatter. Just two or more of these positioned anywhere are enough to trigger a scatter prize.
Are there bonus elements to try and find?
At least three gold ingots are needed to win some free games. If you find three or more, click on each of them. You'll see up to 10 free spins awarded for each one. The amounts are added together, and you then play those free spins. The free games also have the God of Wealth on the middle reel, as you'd expect. However, with each appearance, he replaces oxon, tigers, and dragons that may have appeared in the same spin. So, while he is restricted to the center reel to start with, it's entirely possible to get lots of wilds in just one spin. You'll only find out what you have won once these transformations are complete.
Download and enjoy a game of the God of Wealth slot today!
We do love a free spins feature that has a twist – and this game certainly manages to put a few twists on the usual formulaic free spins element. The God of Wealth slot looks great and is a lot of fun to play. We think you'll be aiming for lots of free spins very soon.