Tiger Treasures Slots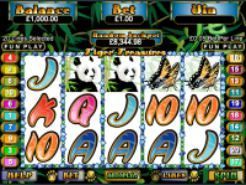 Current Jackpot
$1,671.14
Play Now
We can think of a few pokies featuring tigers as the big attraction. Since they appear in the title of this one, we guess they're part of the theme. Tiger Treasures sounds cool, but we know that a title can tell a lot or a little about the game itself. We're keen to learn more about this animal-themed game, to see if that is the main theme or if there is more to uncover.
Which team is behind the creation of this game?
This is another pokie from the reliable team at Realtime Gaming. It's not the most recent of their games, but while it looks a little dated it still offers plenty to get your teeth into.
Don't miss the demo opportunity
What better way could there be to explore the possibilities this game can offer than to try it just for practice purposes?
Theme details
The theme does revolve around tigers, sure, but there are other things worth noting here. Firstly, there are other animals involved, including pandas. Super cute! Other elements indicate we're in Asian territory for this one, so you could think of it as a marriage between two themes – and a good one at that.
It boasts a colorful design
You know how some colorful pokies go overboard on striking colors? That's not true with this one, thankfully. There is just enough to capture your attention without giving you too much to contend with.
Let's get down to the basic features of the game
Tiger Treasures gives you five reels to spin. It adopts the usual 5 x 3 matrix to play on as well. Also present is a familiar random jackpot amount – something that lots of RTG pokies have in common. Wild tigers would make sense, and that's just what we get in this game. They can appear in stacks over the middle three reels. Whenever a tiger appears in a winning line, it grants you 3x the usual prize you would have received. The Asian theme is seen when you spot a Chinese icon on the reels of the game. This is used as a scatter symbol, and only two are needed for a prize to be granted. Of course, the more you find the better the prize.
How many lines are there?
The game comes with 20 paylines.
Is this a penny pokie game?
Yes, you can play it as a penny slot if you like. There are larger coins to think about too, so if you prefer to play larger bets on each spin, you can go as high as $5 per coin.
The paytable does a good job of explaining everything
Even though you've read our review, you should still review the game's paytable before you place your first wager. It helps guide you through what to expect from the game.
Bonus possibilities in Tiger Treasures
There are no second screen bonuses here, but there is a chance to secure some free games.
Explaining how the free spins work
Three scatters are needed in the same spin to give you some free games. This is one of those slots that gives you a chance to choose how you want to play them. The fewer games you choose, the larger the potential multipliers. For instance, choosing just five free spins would mean you get multipliers of between 10x and 30x on each prize. At the other end of the scale, choosing 20 freebies allows multipliers of between 2x and 5x to appear. Expect more tigers to show up during those games too, which is a good thing. There is also the chance of retriggering the freebies.
RTP details for Tiger Treasures
It's difficult to find an accurate rating for the return to player percentage, as RTG doesn't tend to release the details for this topic.
Our rating for this pokie game
It's a cool pokie, sure, and it would be difficult to rank it any lower than seven points out of 10. The graphics aren't as good as you might think, but they're still great to view as you play.
Everyone will be watching the random jackpot
No one can tell how this might be triggered or when, so it is anyone's guess how big the pot will become before someone manages to get the lot. That is just one more element of the exciting nature of this pokie.
Play for practice only
That is the best way to begin, as you get the chance to see what you think of the game. Sure, you can read our review, but nothing beats trying it for yourself with zero risk.
Playing the real thing
Will you switch to real play with Tiger Treasures? If you check out the practice option at a good RTG casino, you know you can change over to your cash budget for gaming whenever you wish. If you like it, you can play it for real. Simple!
Playing on a mobile platform
It's possible to find this pokie at mobile casinos operating on the Android and iOS platforms. It's uncommon to need an app for these, as most of them allow access via the mobile browser.